Lionel Messi, yet again, could not rise up to the occasion as Argentina faltered in their second successive game at the 2018 World Cup. Croatia crushed them 3-0 as they qualified for the knockout stage, having previously beaten Nigeria.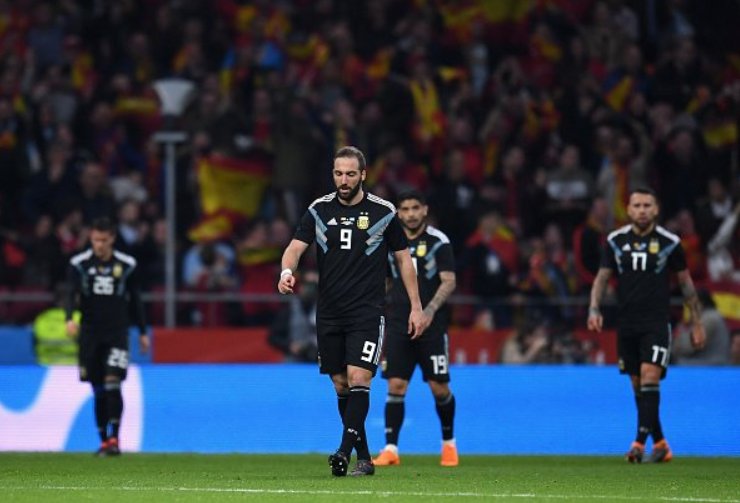 Despite the team being star studded and very talented, Argentina have failed to turn in any major trophies. They have reached several finals but they just could not break through. With Russia 2018 being the last possible opportunity the golden generation of Argentine stars have of lifting a trophy, there was more pressure.

If Iceland defeat Nigeria on Friday, then Argentina would be on the brink of World Cup exit in the group stage. Their destiny is not in their hands already. With their recent bad display against Nigeria and their current poor mental state, there are no guarantees that they would beat the Super Eagles in the final group game.
Scenario 1:
Croatia have six points already, Iceland victory over Nigeria would put them at four points, while Argentina would have just a point ahead of Nigeria. If this happens, Argentina would have to beat Nigeria in the final game, and hope Iceland lose to Croatia, so their four points would be enough. It would now come down to goal difference.
Scenario 2:
Another scenario the Argentina team would pray for is for Nigeria and Iceland to draw as Croatia will have six points, Iceland will have two points, Nigeria will have their first point while they will retain their single point. Still Albiceleste would have to beat Nigeria and hope Iceland lose or draw. This scenario favours them than the first.
Scenario 3:
If Nigeria can beat Iceland, Argentina would be very pleased. This is because they can beat Nigeria in the final game and qualify on four points, depending on the result of Croatia and Iceland though. Croatia will have six points, Nigeria victory will give them three points, while they and Iceland would have a point each. However, if Nigeria get three points, they would do anything possible for at least a draw against the Argentines so it would be hard.
Either way Argentina have a mountain to climb; the result of the game between Nigeria and Iceland is crucial to them remaining in the tournament.